Disabled child kicked from play area; family takes to Facebook | News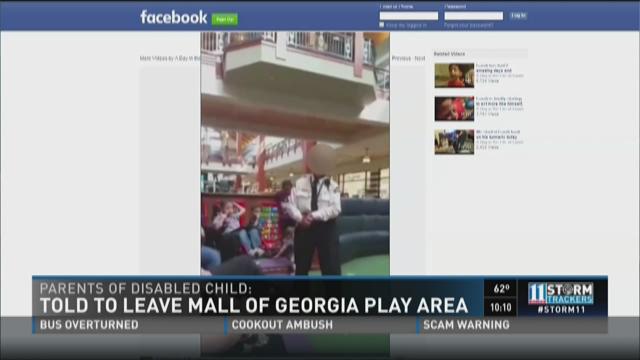 See the full story tonight at 11.
BUFORD, Ga. -- An area mother says she's shocked and offended after a major mall's security staff asked that her disabled son be taken out of a play area.
April Tate told 11Alive, Saturday, that her son Isaiah was sitting in his wheelchair around the other children as his brother played in front of him at a play area in the Mall of Georgia.BUFORD, Ga. -- An area mother says she's shocked and offended after a major mall's security officer asked her disabled son out of a play area.
But that's when she said a security guard came up and asked her to bring her son from the area. April said she was told that the wheelchair was a potential hazard to other children and that the supervisor had asked that the child be moved.
"It made me feel angry and hurt for my child that they were asking him to leave an area which I knew was clearly against the Americans with Disabilities Act," she said.
Her husband Dana began filming just moments after the apparent confrontation occurred as the security guard had begun walking away. Some other parents can be heard commenting on what had just happened.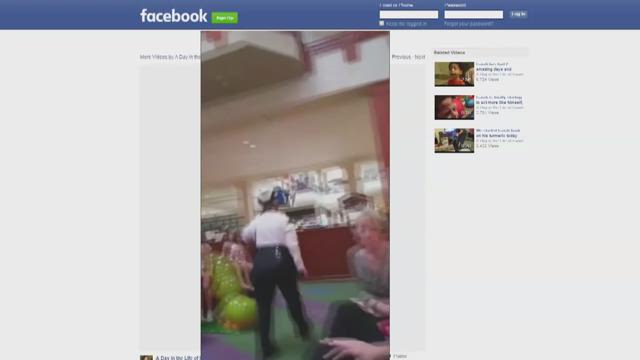 He said his goal was to make sure they had proof of what happened and he hopes this leads to people being educated.
"We don't want this to keep going on," he said adding that he has since heard of similar incidents.
The recording was then posted to social media and, as is often the case, spread quickly with other users – and then to 11Alive News.
"The majority of people are in support of Isaiah and seem to be outraged at what happened," she said.
April said that she has never encountered a situation like this before and even had security guards come up to speak with her child – but never to ask him to leave.
She also said the mall manager had spoken with her and had apologized "profusely" insuring that he would speak directly with his staff to let them know that this was not the protocol in the future.
The mall also released the following statement:
Mall of Georgia welcomes all shoppers, including those with disabilities, to enjoy our center and our children's play area. Our expectation is to provide an inclusive environment that is safe, comfortable and accessible for everyone, and we have no policy that states otherwise. We have connected with Isaiah's mother to rectify the unfortunate and unacceptable misunderstanding, and are addressing this with our mall team and Allied Barton, our security provider, to ensure this does not occur in the future.
April hopes that people remember that even with a disability, children should be allowed to children - and be around them.
"All children need to be included, whether they have a disability or not," she said. "They need to be included – they are children. They need to have that opportunity to play and be around other kids."
April said she hopes that this is a lesson for those working in similar positions.
"It's how we teach our children acceptance and tolerance of people who are different," she said.